B\rthDay CeleBrationS !!!!

9.11.06 (pOly FrIenDs)
the celebration was held at hawker centre haha funny way for funky students to celebrate birthday...somemore at Bedok 85 there ... Bedok !!! when i am staying at Redhill hahah but nevertheless i did enjoy myself ... some of us were waiting at the interchange's hawker centre for so long that we decided to eat something first... so i ate my long desired "tang Yuan" then there comes shu lay with this Pooh Bear Happy Birthday balloon which attracted so much attention ...



Later when majority of them had arrived, we took a bus down to 85 there and looked for tables , arrange tables also must have a tatic... firstly we began by singing birthday song with a delicious cheesecake and nicely decorated that was baked by dear Janice ... they almost made me stand on the chair but luckily i was wearing skirt so i knelt on the chair instead... even so !!!!! everyone at the hawker was looking at me ... so paiseh !!! after that, that made me take out the candle holder that was pushed deep into the cake with my mouth without my hands ...

After that we ordered lots of food that filled 2 tables ..... Now you see it .......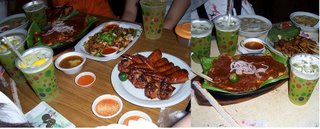 Now you Don'T ......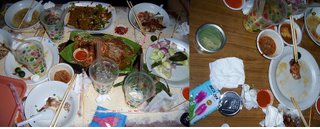 Then its more presents time !!!!!! there was a pearl in the shell and different colour of the earl represents different things at random.... then this pearl can be placed in the necklace holder as pendant ... I got the pearl that represents HAPPINESS !!! haha then they also printed jigsaw puzzles that was printed from the group photos we took togther.... they didn't even give me the photos for me to follow and expect me to piece them together with the original copy ... alamak ...
after that all have to go home liao......
10.11.06 (LaO peNg YU)
we were supposed to have our traditional steamboat birthday celebratio but grace with down with gastric flu and michelle with sore throat ... we decided to go marina square instead .... once we stepped into teh shopping mall, grace and I bought some item from Diva even before we ate ....decided to go changing appetites ... first we ordered Iced chocolate that was shared by all of us.... oh my!!! i wonder how much calories it is ....
then we had our main course !!!!!! Mine was "Chicken Out !", Grace with " Baby Back Ribs" and michelle's "Beef Burger" ......food was not bad !


Because we were waiting for michelle to finish her food while waiting for tze wei to come....grace and i took photos to enteratin ourselves .... haha"Zi Lian" de us

we decided not wait any longer so went to shop shop around !!!!!! haha bought a small bag at $20 when orignial price is at $59.90... wahahhaa then went arcade to play !!!!!
"You Sha Qi!!!!" haha... after that went to Giant where Grace bought me a cheesecake to celebrate at Esplande ... and Archie was too engrossed with his Tom and Jerry ... wahahaha
there i went to find amy at her work place and chatted with her ...kinda miss her ... then went to POPCORNPOP whereby me and grace spent again.... on figurines......then michelle went to buy each of us chocolate coated strawberry .....*hmmmm (shan looks at tummy and shakes head* wanted to go to the esplande roof top but it was closed so went to the river side.... there they sang me a birthday song ...and share the love with that slice of cheesecake....

The night was growing old and we had to part ... though it was a small gathering but i was very happy that i was able to forget about some unhappy stuff for that period of time ....then grace and i caught the last train home !!!!!!
TuesdaY######
today i am was like a superwoman !!!!!! supposed to report at school at 8am in full uniform then guesss wat ?! i only woke up at 7.15am despite the morning calls that i received....so i rushed like mad woman ...but still took bus to habour front and then sentosa bus ...at arrival centre, a friend picked us up in her cab then the 3 of us ran all the way to the toilet and dress up within 5 mins... please note that its 5mins to 8am but we weren't late !!!!!! amazing ~ haha today we tasted some cocktail (strawberry martini, magarita, SIngapore Sling, Screwdriver, Bloody Mary, Black Russian, Flaming Sambuka) my goodness !!!!! me and amy face were super red in the end... then at departure centre i puked ... yucks dislike the feeling ... haha ~ any way, here is some sneak preview during my lecture period.... enjoy !~

After DriNkinG~~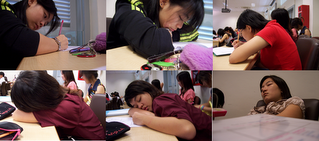 Now We kNow whO aRe tHe haRdworkIng oneS and whOse NoT :)
today is my 19th Birthday but then i dun feel very excited ... haha maybe because growing older liao le ... previous day tried one hour worth of clothes for this day though ... then went school... lessons as usual then went to meet derek!! after i met him, we rushed all the way to Ritz Carlton to collect my pay because its due today and the finance department going to close soon... supposed to watch DOA at 5.20pm but cannot make it so we wanted to go ps to watch Covenant at 6.50pm after having dinner at New York New York . we ordered a whole spring chicken, beef burger and buffalo wing ... then we conclude that we are not going to finish it on time to catch the show so we slowly ate ... the wings not nice and the rest ok only ... super full .... after that we went to suntec see got show or not ... in the end dun have so went around shopping then jiu go home earlier to celebrate my birthday with family ... then got hurt by my grandmother in her speech .. haix ...